Nifti is a platform that uses AI to encourage young adults to set goals, develop focus, and cultivate independence during the period of emerging adulthood.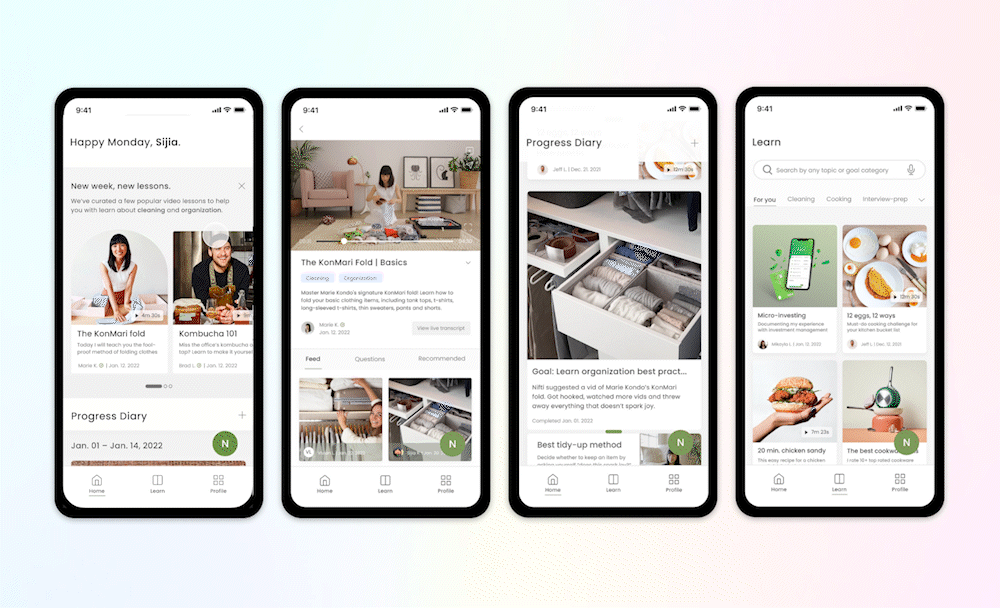 Timeline: March 11th – 18th, 2022, 60 hour sprint (pre-ChatGPT era)





Tools: Figma





Sk

ills: Surveys -> personas -> user flow -> app map -> wireframing -> prototyping
---
The problem
Emerging adulthood has been proposed as a new life stage between adolescence and young adulthood, lasting roughly from ages 18 to 25. Many emerging adults have difficulty navigating this transition by themselves.
Based on interviews with 10+ young adults ages 18 to 25, the most difficult challenges of emerging adulthood are:

1. Acclimating to living alone
2. Managing personal finances
3. Lack of motivation to do chores
4. Google does not always provide reliable solutions
5. The feeling
of loneliness
---
Solution
Nifti is an AI-backed chatbot that lends a listening ear and gives a helping hand. Send Nifti all your adulting concerns, and she'lll show you where to start.
Many emerging adults aged 18-25 experience major life milestones such as moving out and living alone. Nifti helps users acclimate to the responsibilities that come with adulthood, and actively learn new skills. All a user needs to do is tell Nifti what they're going through or what they want to learn, and Nifti will provide a list of customized learning goals along with suggested learning categories. From that, Nifti will recommend personalized lessons to help users achieve their learning goals in bite sized chunks.
e.g.
1. How do I throw a good dinner party?
2. How can I save money? What is budgeting?
3. I really want to learn now to meal-prep. How?
---
Nifti provides learning categories, articles, and video lessons based on monthly learning goals tailored to the user
Nifti prepopulates users' dashboards with custom new learning lessons every week. Without imposed goal deadlines such as deadlines set in academic settings, users are more likely to realize that learning does not have to be a stressful chore. Upon realizing that goal setting can be something they take at their own pace, more users may find themselves learning "just for fun."
---
A progress diary and the ability to link relevant resources that have helped you along the way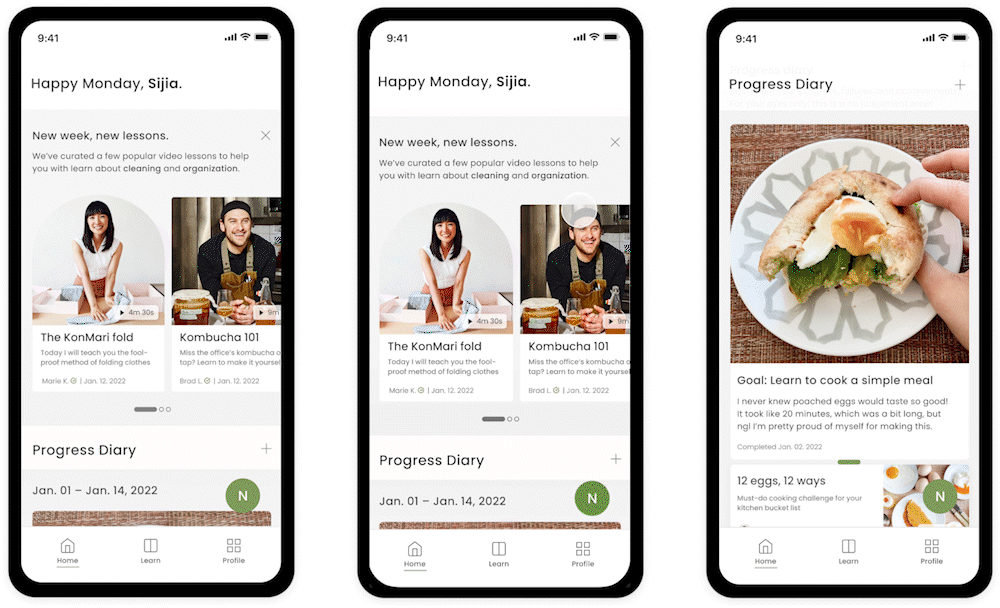 Users are able to deliberately learn new skills through searching for specific goals and topics and document their progress within the progress diaries on their home pages. But often, it is difficult to remember which specific articles or videos are
actually
helpful, and many have to search through months of browsing history in hopes of finding the resources they are looking for. Users are able to link the learning resources such as videos and articles to their progress journal entries for easy future access to articles and videos they find helpful.